Lorna's Larder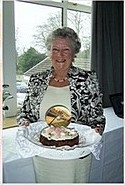 Business Name:
Lorna's Larder
Business Description :
A collection of organically grown foods made into jams, jellies, chutneys, relishes, oils and vinegars.
Seasonal produce is used to make these delightful and often hard to find jams, jellies, chutneys and relishes. Jelly can be sweet or savoury or even hot and spicy.
Most of the fruits and vegetables used in production are grown on site, without the use of pesticides or chemical fertilisers. So when I have a glut of produce, it gets preserved in recipes which are not readily available on supermarket shelves.
These products are designed to be given as presents but I am aware that they often don't reach their destination!! It's a great thrill in winter to open a jar of jam /chutney to bring back scents of summer.
So watch the online shop for a constantly changing product list.
All Lorna's Larder products can be bought online and delivered to the door.