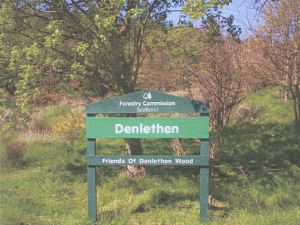 Denlethen Wood is situated at the south west edge of Laurencekirk. The wood is owned by the Forestry Commission Scotland, maintained by Friends of Denlethen Wood and made available, as a local community woodland, for recreational activities.
Health Benefits
Access to the woodland is mainly by the hardcore forest road loop (2km) plus a network of natural paths (total 10km) allowing the public to reach all parts of the woods.
The paths form long or short loops allowing for plenty of choice to suit the needs of the moment.
These woods are in use throughout the day and every day of the year, regardless of weather, by at least 200 (400 at weekends) walkers, dog walkers, pushchair walkers, joggers, runners, bicycle riders and horse riders.
The woods are a safe place for walking, family outings, school classes, group outings and fitness purposes.
The woods are within easy reach of the average walker living close by and are visited by cyclists and car owners from further away, who appreciate the advantages of Denlethen Wood.
This is a very pleasant area of community woodland which offers shade in the heat and shelter in the rain, wind or snow.
To find out more about the Friends of Denlethen Wood, please email friendsofdenlethen@gmail.com