What The Fork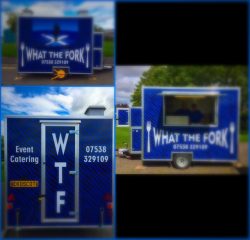 Business Name:
What The Fork
Business Description :
What The Fork is based at Laurencekirk Business Park and is open weekdays from 9am – 1:30pm. WTF serves a large selection of hot breakfast rolls and a breakfast special. We also serve steakhouse burgers with various different toppings, hot dogs, chips either on there own or with cheese, curry sauce, pepper sauce or gravy.
WTF is also available for events and private hire and are menu can be flexible to suit your requirements. We can also offer baked potatoes for your event which are deliciously healthy and very diverse. Our potatoes are served fresh from our King Edward potatoe oven along with a choice of hot and cold filings.