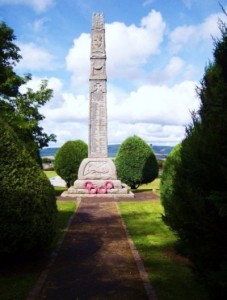 The Ballad Bus is back on the road for Mearns Connections Festival 2014. A tour visiting many of the Mearns war memorials will be illustrated by accompanying stories, songs and poetry. The entertainers include Allan Taylor, Donald Clark, Alan Sim and Jim Brown who will lighten the day for all. There will be a delicious stop for lunch at Balmakewan farm shop and restaurant, or if you prefer bring your own piecie.
Tickets £10 each can be booked from the Grassic Gibbon Centre 01561 361668 or purchased on the day. Join the bus at Arbuthnott Hall/Grassic Gibbon Centre 10.30am. Do come along and add to the interest of the Ballad Bus by sharing your story, song or information. All welcome.
For further information call Marion Robson at 01561 377501.