The members of the Laurencekirk Rotary Club were delighted to present Linda Wilson with their prestigious Community Service Award. President Sandra Bartram outlined the outstanding voluntary service that Linda has given to her community as Chairwoman of the Edzell Woods Owners Group.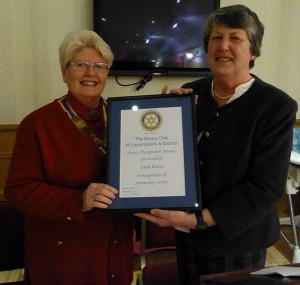 Linda had a career in Human Resources management with many high profile companies including Marks and Spencer and reached the rank of Major in the Territorial Army before settling in the rural calm of Edzell Woods. This small village was formed when the Americans pulled out of the RAF Base leaving some 150 empty houses and now, as a private estate, the owners are collectively responsible for the sewage, roads and lighting. This responsibility has caused problems over the years and Linda's contribution and commitment to the Owner's Group has been immense.
Through their efforts the sewage plant has had a major turnaround and eventual praise from the country's environmental watchdog, however these responsibilities have created a unique and caring community and its special layout with a vast amount of green open space makes it an ideal and safe  place to live and raise children.
David Johnston thanked Linda for enlightening the members about Edzell Woods and wished her well in her selfless work in improving her community.