A total of 36 members and friends left today for their 4-day trip to the 100th Anniversary Chelsea Flower Show.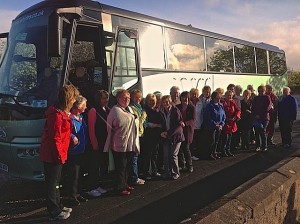 Organised by Laurencekirk Ladies Social Club, the ladies will be arriving in their London hotel late afternoon, and will spend a full day at the Flower Show on Friday.
Saturday will be a tour of London with a free afternoon shopping and a free evening for a show or theatre of their choice.
Let's hope they will be inspired with the gardens and the floral arrangements, and that Laurencekirk will benefit from their experience!
Our photos show the ladies at 7am this morning boarding their Whytes bus. Click on the pictures for a larger view.