The comfort of Hugo's provided a lovely atmosphere for holding the latest meeting following the summer holidays and it was great to for everyone to catch up. There was a good mix of LBC members and Andy Cromar (Mearns Supply Country Store) was welcomed back to the group. Much of the meeting was dedicated to fund raising plans for the fireworks event and Linda Farqhuharson chaired the meeting.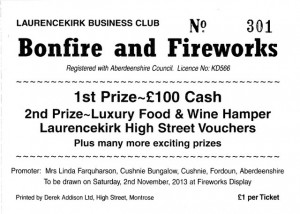 Linda confirmed the good news that the raffle tickets to raise funds were printed and ready for sale. There will be a variety of fantastic prizes up for grabs to the lucky winners. Raffle tickets will be distributed amongst members to sell on and will be on sale in various premises and shops across Laurencekirk. All proceed from these sales will go towards the fireworks display.
There has been a super response to the 'sponsor a firework' letter that was sent to local businesses, increasing the motion for this campaign. LBC are well on their way, with the help of those sponsors, to raising the funds needed for this wonderful community event. The LBC want to reinforce that they are a non-profit making organisation and all funds raised will be put towards community events such as this, for as many people to enjoy as possible. If anyone or any Company would like to donate to the business club for this event then please contact Linda at Hugo's or Lynn Jones at Dizzy's.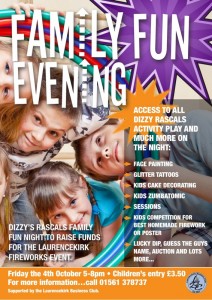 Lynn Jones from Dizzy Rascals unveiled exciting plans to host a Family Fun Evening on Friday the 4th of October where entry for children will be £3.50 as normal for up to 3 hours play, but there will be added extras available to raise funds which include face painting, glitter tattoos, children's Zumbatromic with Jacqui D, a 'prize every time' lucky dip and a raffle. All is being organised and run by Business Club members. Also Bev, from 'Cakes by Design' will donate 2 beautiful cakes to be auctioned off on the night. All proceeds raised from this wonderful night will be given entirely to the funds for the Firework event for all the community to enjoy.
Impact Imaging will design and put up the posters to promote this event, and for further details please contact Lynn Jones at Dizzy Rascals on 01561 378737.
Jacquie Donoghue has kindly volunteered to discuss with Laurencekirk Primary School the involvement of the children in 'Building the Guy', that will be placed on the bonfire to start it, before the spectacular firework display. Once made by the children, it will be on display at Mearns Hardware store right up until the night of the event.
An art competiton designing fireworks is also to be introduced and the winner announced on the night of the Family Fun evening, so lots of exciting plans are coming together for this event.
Linda Farquharson informed the group that the Laurencekirk Rotary Club also has very kindly donated £200 towards this night, which all the members really appreciate, and is a huge help.
The next meeting is to be held on Thursday the 26th September at Hugo's and Jill Fotheringham from the A937/A90 Junction Campaign will be coming along to talk to the group about how their Campaign is going and try and seek more support for a flyover in Laurencekirk, to make our journeys more safer. Please come along and join us from 7pm onwards.