On Wednesday, 10th September ENECO invited colleagues, contractors and community representatives who had been involved with the project to a formal opening ceremony.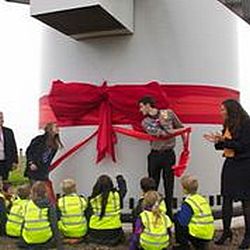 Pupils from Laurencekirk Primary School welcomed the company at Fasque House with an enthusiastic rendering of "Flower of Scotland".
At a ceremony at the wind farm itself a pupil from Mearns Academy and one of the Explorer Scouts who had chosen the name for the new facility performed the opening ceremony.
After a celebratory lunch at Fasque a group of Primary School pupils presented their art projects which are to be attached to each of the new turbines. They were introduced and interviewed by Leo Johnson, younger brother of London's mayor.
The final piece of good news related to the Kincardine Hospital project to raise funds for a Renal Dialysis Unit to serve the residents of Kincardine and Mearns. At the instigation of the Gammie family of Davo Mains, Eneco donated a significant financial contribution which should ensure the project goes ahead.